Magaret Holland is an assasin with unbelievable skill.
She is fluent in english, russian, japanese, and french.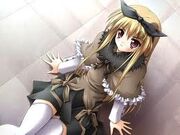 She is friends with russian mafia bosses.
Apearance
---
Magaret has blond hair. She has DD-cup breasts.
She somtimes wears semi reavealing clothing. .
Personality
---
Magaret is really nice and caring. How ever if you anger he she is cruel and ruthless.
When necessary she is a cold-bloded killer.
Abilites
Marksmanship Enhanced Combat
Mixed Martial Arts
History
---
She used to work for RUSSIAN SPEC ops and the russian mafia.
She was born in New York, New York. Her mother moved her to russia to stay with a man named Adam Abramov.
He was a mafia boss untill his son Anastas took over the "business". As such she is friends with him the mafia has possesion of heay military hardware/equipment. In russia she goes by the name Nadya Abramov.
Affiliations
---
Russian Mafia-She is friends with mafia bosses
I.I.A-She works for them
Community content is available under
CC-BY-SA
unless otherwise noted.